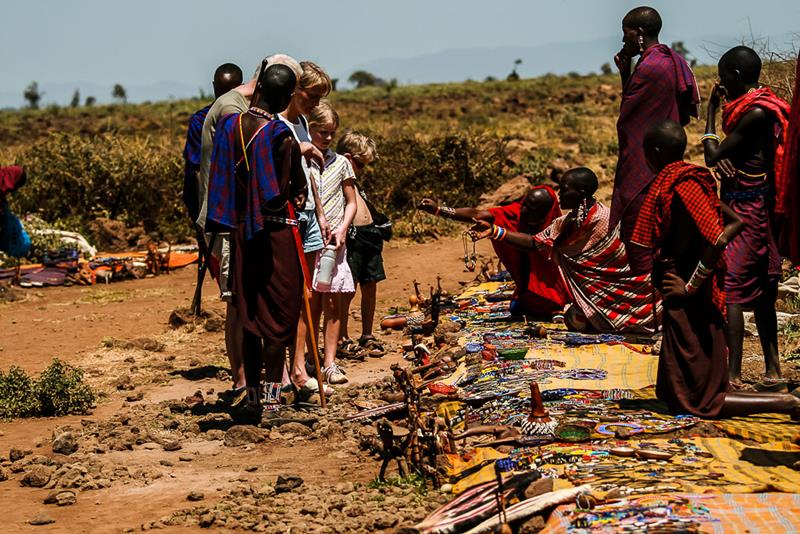 DAY 01 – DAY 02: NAIROBI
Pick up at the airport in Nairobi after going through immigration and customs. Transfer to The Giraffe Manor, built in 1932 by Sir David Duncan. It is surrounded by 140 acres of its own park and forest with superb views of the Ngong Hills. The Manor also offers a uniquely untouched wilderness on the doorstep of one of Africa's most cosmopolitan cities, the adjoining Jock Leslie-Melville Nature Education Centre, better known as the Giraffe Centre. Guided walks through its primeval forest enable you to learn about traditional uses of the varied flora, view some of the 180 bird species and perhaps meet a warthog or bushbuck. Lunch and dinner. Overnight at The Giraffe Manor (B.L.D)
DAY 03 – DAY 05: MARA
Breakfast and transfer to Wilson for your flight to the famous Masai Mara National Reserve , one of the most popular tourism destinations in Kenya. The reserve is located in the Great Rift Valley in primarily open grassland and a jewel to wildlife enthusiasts. Together with the Serengeti National Park in Tanzania it forms Africa's most diverse, incredible and most spectacular ecosystems and possibly the world's top safari big game viewing ecosystem. The Reserve was made famous by the abundance of the big cats, Lion, Leopard, Cheetah and the Great Wildebeest Migration and the Maasai people, well known for their distinctive custom and dress. On arrival at the airstrip you will be transferred to Mara Bushtops Camp- an exclusive and luxurious camp located in a private conservancy. Enjoy game drives and guided walks. Spend 03 nights here. All meals and overnight at Mara Bushtops Camp (B.L.D)
DAY 06: NAIROBI-AIRPORT
Breakfast and game en-route to the airstrip for your flight to Wilson in Nairobi where you will be picked and transferred to the airport with a light lunch en-route. END.
COST INCLUDES
Meet and greet services
Accommodation in Nairobi is on FB except at Nairobi Serena (BB)
Accommodation as indicated or similar subject to availability
Three meals in a day as indicated B= Breakfast, L= Lunch, D=Dinner.
Game viewing as indicated.
Transport in a private safari van- Kenya
Use of an English speaking driver guide
Local flights as per programme
Park Entrance fees, taxes and service charges.
Airport transfers as indicated
AMREF- rescue and evacuation cover
Visits to local schools, sundowner, guided/bush walks etc depending with lodges/camps.
Light lunch-last day.
COST EXCLUDES
International flights & Visa charges
City tours, extra meals
Visit to Maasai/Samburu villages.
Items / activities not included i.e balloon safari, boat rides, biking
Items of personal Nature i.e. Drinks, Laundry, Telephone Calls, Clothing
Tips to driver guides , porters and waiters
Accommodation/transfers in Mombasa/Zanzibar
Flights to Mombasa/Zanzibar
DAY 01 – DAY 02: NAIROBI

Pick up at the airport in Nairobi after going through immigration and customs. Transfer to The Giraffe Manor, built in 1932 by Sir David Duncan. It is surrounded by 140 acres of its own park and forest with superb views of the Ngong Hills. The Manor also offers a uniquely untouched wilderness on the doorstep of one of Africa's most cosmopolitan cities, the adjoining Jock Leslie-Melville Nature Education Centre, better known as the Giraffe Centre. Guided walks through its primeval forest enable you to learn about traditional uses of the varied flora, view some of the 180 bird species and perhaps meet a warthog or bushbuck. Lunch and dinner. Overnight at The Giraffe Manor (B.L.D)

DAY 03 – DAY 05: MARA
Breakfast and transfer to Wilson for your flight to the famous Masai Mara National Reserve , one of the most popular tourism destinations in Kenya. The reserve is located in the Great Rift Valley in primarily open grassland and a jewel to wildlife enthusiasts. Together with the Serengeti National Park in Tanzania it forms Africa's most diverse, incredible and most spectacular ecosystems and possibly the world's top safari big game viewing ecosystem. The Reserve was made famous by the abundance of the big cats, Lion, Leopard, Cheetah and the Great Wildebeest Migration and the Maasai people, well known for their distinctive custom and dress. On arrival at the airstrip you will be transferred to Mara Bushtops Camp- an exclusive and luxurious camp located in a private conservancy. Enjoy game drives and guided walks. Spend 03 nights here. All meals and overnight at Mara Bushtops Camp (B.L.D)

DAY 06: NAIROBI-AIRPORT
Breakfast and game en-route to the airstrip for your flight to Wilson in Nairobi where you will be picked and transferred to the airport with a light lunch en-route. END.

COST INCLUDES

Meet and greet services

Accommodation in Nairobi is on FB except at Nairobi Serena (BB)

Accommodation as indicated or similar subject to availability

Three meals in a day as indicated B= Breakfast, L= Lunch, D=Dinner.

Game viewing as indicated.

Transport in a private safari van- Kenya

Use of an English speaking driver guide

Local flights as per programme

Park Entrance fees, taxes and service charges.

Airport transfers as indicated

AMREF- rescue and evacuation cover

Visits to local schools, sundowner, guided/bush walks etc depending with lodges/camps.

Light lunch-last day.

COST EXCLUDES
International flights & Visa charges
City tours, extra meals
Visit to Maasai/Samburu villages.
Items / activities not included i.e balloon safari, boat rides, biking
Items of personal Nature i.e. Drinks, Laundry, Telephone Calls, Clothing
Tips to driver guides , porters and waiters
Accommodation/transfers in Mombasa/Zanzibar
Flights to Mombasa/Zanzibar
Safaris you should consider: