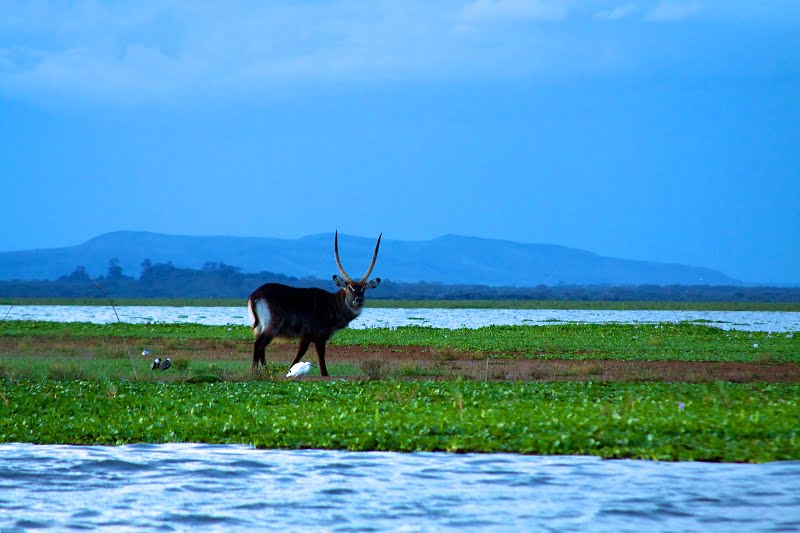 Lake Naivasha is a beautiful freshwater lake, fringed by thick papyrus. Much of the lake is surrounded by forests of the yellow barked Acacia Xanthophlea, known as the yellow fever tree. These forests abound with bird life, and Naivasha is known as a world class birding destination.The waters of the lake draw a great range of game to these shores. Giraffes wander among the acacia, Buffalo wallow in the swamps and Colombus monkeys call from the treetops while the Lakes large hippo population sleep the day out in the shallows.
LAKES – BIRDLIFE & HISTORY
DAY 01: Pick up from the airport, safari briefing and drive to the lodge. Lunch followed by a guided tour of the lake where you will have a great chance of seeing different species of birds. Dinner and overnight.
DAY 02: Breakfast. Take a boat ride to crescent Island a private Wildlife Sanctuary on the eastern side of Lake Naivasha. Visitors can enjoy the wildlife and tranquil environment and the animals expected to be seen include giraffes, zebras, Thompson's and Grant's gazelles, waterbuck, eland, and a great many bird species. Return to the lodge for lunch. Afternoon visit the Museum and watch Joy Adamson's video and get to learn more about the her-Born free fame, a true story about an orphan cub called Elsa. Dinner and overnight.
DAY 03: Breakfast and later depart for Nairobi. (lunch at own cost). Drop off airport. End.
Accommodation: Elsamere Conservation Centre
Meals: Breakfast, lunch and dinner
COST INCLUDES
Meet and greet services
Accommodation in Nairobi is on FB except at Nairobi Serena (BB)
Accommodation as indicated or similar subject to availability
Three meals in a day as indicated B= Breakfast, L= Lunch, D=Dinner.
Game viewing as indicated.
Transport in a private safari van- Kenya
Use of an English speaking driver guide
Local flights as per programme
Park Entrance fees, taxes and service charges.
Airport transfers as indicated
AMREF- rescue and evacuation cover
Visits to local schools, sundowner, guided/bush walks etc depending with lodges/camps.
Light lunch-last day
COST EXCLUDES
International flights & Visa charges
City tours, extra meals
Visit to Maasai/samburu villages.
Items / activities not included i.e balloon safari, boat rides, biking
Items of personal Nature i.e. Drinks, Laundry, Telephone Calls, Clothing
Tips to driver guides , porters and waiters
Accommodation/transfers in Mombasa/Zanzibar
Flights to Mombasa/Zanzibar
LAKES – BIRDLIFE & HISTORY

DAY 01: Pick up from the airport, safari briefing and drive to the lodge. Lunch followed by a guided tour of the lake where you will have a great chance of seeing different species of birds. Dinner and overnight.

DAY 02: Breakfast. Take a boat ride to crescent Island a private Wildlife Sanctuary on the eastern side of Lake Naivasha. Visitors can enjoy the wildlife and tranquil environment and the animals expected to be seen include giraffes, zebras, Thompson's and Grant's gazelles, waterbuck, eland, and a great many bird species. Return to the lodge for lunch. Afternoon visit the Museum and watch Joy Adamson's video and get to learn more about the her-Born free fame, a true story about an orphan cub called Elsa. Dinner and overnight.

DAY 03: Breakfast and later depart for Nairobi. (lunch at own cost). Drop off airport. End.

Accommodation: Elsamere Conservation Centre
Meals: Breakfast, lunch and dinner

COST INCLUDES
Meet and greet services
Accommodation in Nairobi is on FB except at Nairobi Serena (BB)
Accommodation as indicated or similar subject to availability
Three meals in a day as indicated B= Breakfast, L= Lunch, D=Dinner.
Game viewing as indicated.
Transport in a private safari van- Kenya
Use of an English speaking driver guide
Local flights as per programme
Park Entrance fees, taxes and service charges.
Airport transfers as indicated
AMREF- rescue and evacuation cover
Visits to local schools, sundowner, guided/bush walks etc depending with lodges/camps.
Light lunch-last day

COST EXCLUDES
International flights & Visa charges
City tours, extra meals
Visit to Maasai/samburu villages.
Items / activities not included i.e balloon safari, boat rides, biking
Items of personal Nature i.e. Drinks, Laundry, Telephone Calls, Clothing
Tips to driver guides , porters and waiters
Accommodation/transfers in Mombasa/Zanzibar
Flights to Mombasa/Zanzibar
Safaris you should consider: