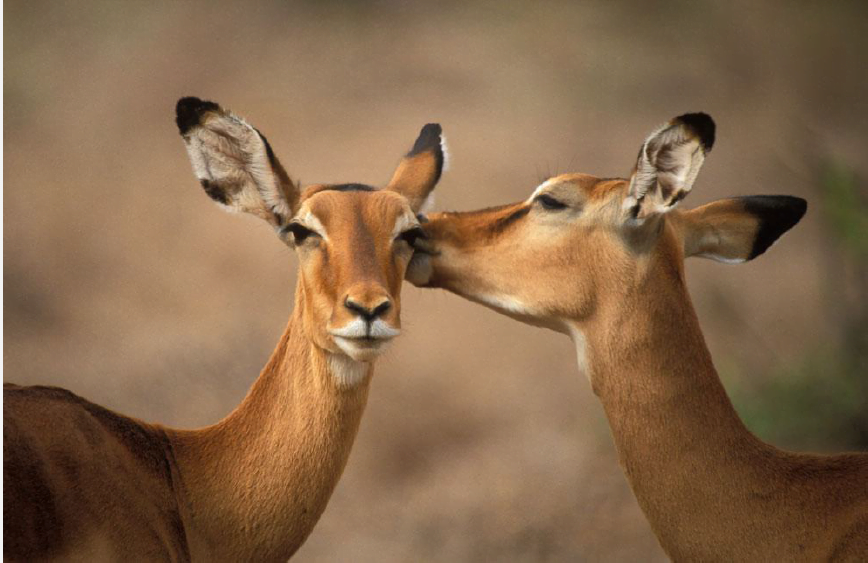 Masai Mara National Reserve is one of the most popular tourism destinations in Kenya. The reserve is located in the Great Rift Valley in primarily open grassland. Wildlife tends to be most concentrated on the reserve's western escarpment. Endless of Savannah changing with golden tanned rolling plains. Riverine forests and shady acacia trees. Vast numbers of herbivores as large elephants, tall giraffes, zebras, slender gazelles and antelopes, graze the plentiful grasslands of the Mara. With the big cat predators luring in the bush always ready to hunt down their favored prey. Nowhere in Africa is wildlife more abundant, and it is for this reason a visitor hardly misses to see the big five (buffalo, elephant, leopard, lion, and rhino.
The Great Migration starts in July each year when well over one million wildebeest along with large numbers of Thompson's Gazelle, zebra and other herbivores migrate from the Serengeti plains in Tanzania to fresh pastures in the north and then back south again in October.
DAY 01: Pick up from the airport, safari briefing and drive to the camp Arrive in time for lunch at the camp. Afternoon spent in camp orientation, guided walk and Masai cultural briefing .Dinner and overnight
DAY 02: Breakfast. Later depart with picnic boxes for a full day at the famous reserve. Return to the camp for dinner and overnight.
DAY 03: Breakfast. Masai warrior training- stick fighting, spear throwing and archery. Depart for Nairobi. (lunch at own cost). Drop off airport. End.
Accommodation: Maji Moto Eco Camp Meals: Breakfast, lunch and dinner
COST INCLUDES
Meet and greet services
Accommodation in Nairobi is on FB except at Nairobi Serena (BB)
Accommodation as indicated or similar subject to availability
Three meals in a day as indicated B= Breakfast, L= Lunch, D=Dinner.
Game viewing as indicated.
Transport in a private safari van- Kenya
Use of an English speaking driver guide
Local flights as per programme
Park Entrance fees, taxes and service charges.
Airport transfers as indicated
AMREF- rescue and evacuation cover
Visits to local schools, sundowner, guided/bush walks etc depending with lodges/camps.
Light lunch-last day
COST EXCLUDES
International flights & Visa charges
City tours, extra meals
Visit to Maasai/Samburu villages.
Items / activities not included i.e balloon safari, boat rides, biking
Items of personal Nature i.e. Drinks, Laundry, Telephone Calls, Clothing
Tips to driver guides , porters and waiters
Accommodation/transfers in Mombasa/Zanzibar
Flights to Mombasa/Zanzibar
DAY 01: Pick up from the airport, safari briefing and drive to the camp Arrive in time for lunch at the camp. Afternoon spent in camp orientation, guided walk and Masai cultural briefing .Dinner and overnight

DAY 02: Breakfast. Later depart with picnic boxes for a full day at the famous reserve. Return to the camp for dinner and overnight.

DAY 03: Breakfast. Masai warrior training- stick fighting, spear throwing and archery. Depart for Nairobi. (lunch at own cost). Drop off airport. End.

Accommodation: Maji Moto Eco Camp Meals: Breakfast, lunch and dinner

COST INCLUDES
Meet and greet services
Accommodation in Nairobi is on FB except at Nairobi Serena (BB)
Accommodation as indicated or similar subject to availability
Three meals in a day as indicated B= Breakfast, L= Lunch, D=Dinner.
Game viewing as indicated.
Transport in a private safari van- Kenya
Use of an English speaking driver guide
Local flights as per programme
Park Entrance fees, taxes and service charges.
Airport transfers as indicated
AMREF- rescue and evacuation cover
Visits to local schools, sundowner, guided/bush walks etc depending with lodges/camps.
Light lunch-last day

COST EXCLUDES
International flights & Visa charges
City tours, extra meals
Visit to Maasai/Samburu villages.
Items / activities not included i.e balloon safari, boat rides, biking
Items of personal Nature i.e. Drinks, Laundry, Telephone Calls, Clothing
Tips to driver guides , porters and waiters
Accommodation/transfers in Mombasa/Zanzibar
Flights to Mombasa/Zanzibar
Safaris you should consider: