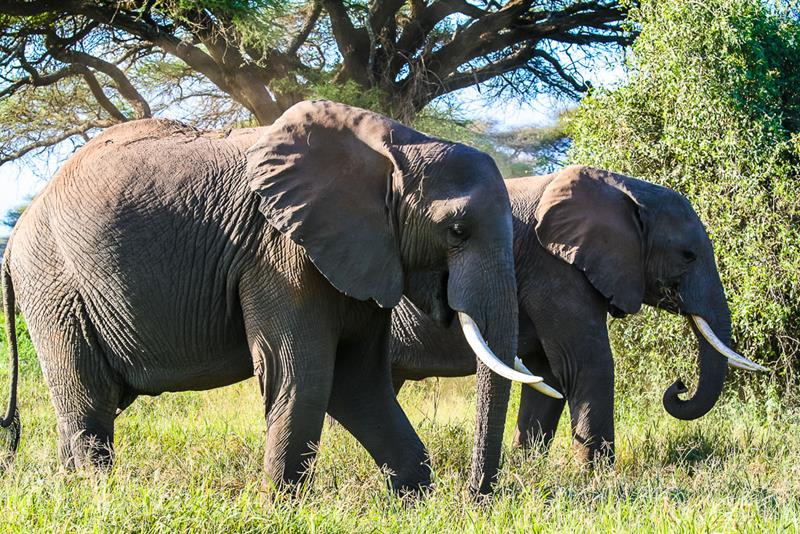 DAY 01: NAIROBI
Arrive at Nairobi's Jomo Kenyatta International Airport. After proceeding through immigration and customs, you will be met by our representative who will brief you on your safari and drive to your hotel (lunch and dinner at own cost). Overnight Eka Hotel (B.B)
DAY 02: MARA
Depart to the famous Masai Mara Game Reserve with game en route .Arrive in time for lunch. Afternoon game drive game drive that will bring forth the exciting wildlife that makes Masai Mara famous the world over.Among the animals expected to be seen include: The black maned lion, cheetah, elephant, hippo, hyena and prey or plains game just to mention but a few.There is also plenty of bird-life with over 402 species recorded. Dinner and overnight at Mara Sopa Lodge (B.L.D)
DAY 03: MAASAI MARA
Early morning game drive – this is the time when the animals are most active before the heat of the day sends them for cover under the bushes, burrows and trees. Search the animals you might have missed the previous day. Returning for breakfast and the rest of the morning will be spent at leisure. After lunch, you may visit the Maasai Manyatta (Optional at an extra cost) – hut where you will see traditional way of life of the Maasai People – a people who have stuck to their customs and adopted to live harmoniously with the wildlife .The rest of the afternoon will be spent on game in the Maasai Mara probably in search of the animals not seen so far. Dinner and overnight Mara Sopa Lodge (B.L.D)
DAY 04: NAIROBI-AIRPORT
Morning game viewing followed by breakfast and later drive to Nairobi ,light lunch. Drop off airport for your flight back home. END
COSTS INCLUDES
Meet and greet services
Accommodation in Nairobi is on FB except at Nairobi Serena (BB)
Accommodation as indicated or similar subject to availability
Three meals in a day as indicated B= Breakfast, L= Lunch, D=Dinner.
Game viewing as indicated.
Transport in a private safari van- Kenya
Use of an English speaking driver guide
Local flights as per programme
Park Entrance fees, taxes and service charges.
Airport transfers as indicated
AMREF- rescue and evacuation cover
Visits to local schools, sundowner, guided/bush walks etc depending with lodges/camps.
Light lunch-last day
COST EXCLUDES
International flights & Visa charges
City tours, extra meals
Visit to Maasai/Samburu villages.
Items / activities not included i.e balloon safari, boat rides, biking
Items of personal Nature i.e. Drinks, Laundry, Telephone Calls, Clothing
Tips to driver guides , porters and waiters
Accommodation/transfers in Mombasa/Zanzibar
Flights to Mombasa/Zanzibar
DAY 01: NAIROBI

Arrive at Nairobi's Jomo Kenyatta International Airport. After proceeding through immigration and customs, you will be met by our representative who will brief you on your safari and drive to your hotel (lunch and dinner at own cost). Overnight Eka Hotel (B.B)

DAY 02: MARA
Depart to the famous Masai Mara Game Reserve with game en route .Arrive in time for lunch. Afternoon game drive game drive that will bring forth the exciting wildlife that makes Masai Mara famous the world over.Among the animals expected to be seen include: The black maned lion, cheetah, elephant, hippo, hyena and prey or plains game just to mention but a few.There is also plenty of bird-life with over 402 species recorded. Dinner and overnight at Mara Sopa Lodge (B.L.D)

DAY 03: MAASAI MARA
Early morning game drive – this is the time when the animals are most active before the heat of the day sends them for cover under the bushes, burrows and trees. Search the animals you might have missed the previous day. Returning for breakfast and the rest of the morning will be spent at leisure. After lunch, you may visit the Maasai Manyatta (Optional at an extra cost) – hut where you will see traditional way of life of the Maasai People – a people who have stuck to their customs and adopted to live harmoniously with the wildlife .The rest of the afternoon will be spent on game in the Maasai Mara probably in search of the animals not seen so far. Dinner and overnight Mara Sopa Lodge (B.L.D)

DAY 04: NAIROBI-AIRPORT
Morning game viewing followed by breakfast and later drive to Nairobi ,light lunch. Drop off airport for your flight back home. END

COSTS INCLUDES

Meet and greet services

Accommodation in Nairobi is on FB except at Nairobi Serena (BB)

Accommodation as indicated or similar subject to availability

Three meals in a day as indicated B= Breakfast, L= Lunch, D=Dinner.

Game viewing as indicated.

Transport in a private safari van- Kenya

Use of an English speaking driver guide

Local flights as per programme

Park Entrance fees, taxes and service charges.

Airport transfers as indicated

AMREF- rescue and evacuation cover

Visits to local schools, sundowner, guided/bush walks etc depending with lodges/camps.

Light lunch-last day

COST EXCLUDES
International flights & Visa charges
City tours, extra meals
Visit to Maasai/Samburu villages.
Items / activities not included i.e balloon safari, boat rides, biking
Items of personal Nature i.e. Drinks, Laundry, Telephone Calls, Clothing
Tips to driver guides , porters and waiters
Accommodation/transfers in Mombasa/Zanzibar
Flights to Mombasa/Zanzibar
Safaris you should consider: